As a result of the 2020 pandemic, remote work in the tech industry has become more prominent than ever. This has come with great perks for software companies, such as opening the pool of talent considerably when hiring, providing more flexibility to employees, and reducing office costs. But the big shift to remote work also comes with some challenges, one of which is maintaining camaraderie between disparately located team members. Remote work can quickly become very isolating, especially for developers… but it doesn't have to be! At Deep Space Robots, one of our core values is Happy, and we care about the happiness of our remote team members when it comes to feeling like they're part of a tight-knit team. Here are some things we do at Deep Space in order to maintain a tight-knit remote company culture.
Fun Slack Channels
Slack channels are a great way to propagate fun conversations throughout the work week! At DSR we have a few different ones:
The DSR Music channel is where we go to share any good music that we find. I can say personally that I've discovered so much new music in this channel! DSR peeps got good music taste! Here's an awesome album our Director of Development, Andrew recently shared. A perfect pick for the Christmas season!
There's also the DSR Hangout channel where it's free game (aside from NSFW content, of course). This is the place where we like to joke around, post memes, and share anything interesting we find about pretty much anything. Think of it as DSR's remote water cooler. Ahh refreshing.
Last but not least is the DSR Cats channel! It would be a crime if I did not mention it. For some reason at Deep Space, there is a high affinity for cats among the team, myself included… Anyhow, this channel is where we like to exchange pictures of our cats, and there are many Deep Space felines. Here's a handsome picture of a company favorite, Max.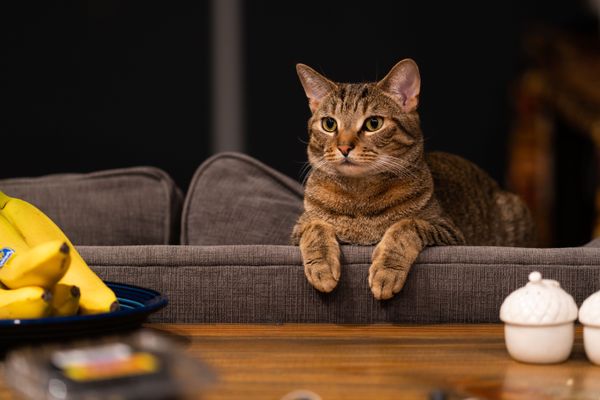 Weekly "Sit Down" Team Meeting
Every Friday for about an hour, the DSR team meets for the weekly "Sit Down". This play on the well-known stand up, in contrast, gives us an opportunity to have a respite from our weekly projects and offers some time for important team building. I would say that this is one of the most effective things DSR does to maintain strong camaraderie among the team throughout the year. Our Sit Down can be divided into three parts:
Each week we select someone from the team to interview and ask a few questions. We'll ask them about something that made them happy during the week, something that humbled them, and anything they're excited about for the future. This is also a great opportunity to encourage and praise that individual for the hard work they're doing.

The next thing that happens is the SAMR question of the week! This is usually a light-hearted question such as "What super power would you have?", "What would your catch phrase be?", or "What kind of business would you start?" The main goal is to spark some fun conversation and give our team a chance to get to know more about each other. This is always a nice change of pace after a week full of work-focused conversations.

Lastly, we always like to top off our Sit Down with some game time! Some of our team favorites are Codenames, Among Us, Gartic Phone, and Wavelength.
In Person Events
Lastly, I can't look past how awesome it is to hang out in person when given the chance. At Deep Space, we make it a point to have special in-person meetups at the Dallas office a few times a year. These are always such a blast! Especially for remote employees like myself, it's awesome getting to hang out with everyone in person and not just in a Slack huddle or Zoom call. Our main goal at these events is just to hang out, have fun, and celebrate each other and the work we've accomplished. In the past we've done boardgames, escape rooms, gone to the movies, and even had a mini game jam! In addition to all of the fun we have at our meetups, they are also a great opportunity for our CEO Rob and the exec team to reaffirm the vision of Deep Space and speak to what the future holds.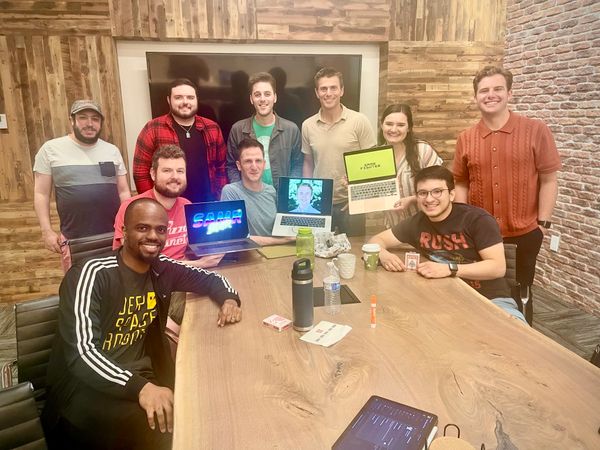 Remote work can be challenging, in large part because of the absence of face-to-face interaction. People, in general, are social creatures after all. But at Deep Space Robots, implementing these strategies has been game-changing. The happiness of our team is a priority and it allows us to serve our clients better as well. We hope these strategies might give you some ideas to increase the effectiveness and happiness of your remote team!
Have more questions about what it's like to work with us? Have a new idea you want to discuss? Contact us here. We would love to hear from you, and help make something astronomical!